In 1696, Major General Caspar Herrmann Hausmann purchased the farm "Eid" and the rights to the waterfalls in Eidsfossen. The intention was to establish an ironworks. Hausmann was the half-brother of the Governor of Norway, Ulrik Fredrik Gyldenløve, who also ran the ironworks Fritzøe in Larvik, among other things. Gyldenløve was the half-brother of King Christian V. The establishment of ironworks was about strengthening the state's economy as well as becoming independent of Swedish iron. The situation between the neighboring countries was very tense in the 17th century.
The Eidsfoss ironworks was ideally located, with the 17-meter waterfall, surrounding ore deposits and access to vast woodlands. Count Wedel-Jarlsberg in Tunsberg held the rights to these natural resources, and he came to an agreement with Hausmann in 1697. Eidsfoss soon became an active industrial site, and a preserved stove plate from 1698 shows 9 different buildings. In the first half of the 18th century, tree workers areas emerged; Gata, Bråtagata and Hauane. Eidsfoss Manor House was erected just before 1750, and in 1766, more than hundred men and women lived and worked here.
In the second half of the 19th Century, Norwegian ironworks suffered increasingly from competition from foreign companies, who benefitted from new technology such as the Bessemer process and economies of scale. Modernizing was a difficult task, and Eidsfoss ironworks tranisitioned, as many other Norwegian ironworks, into an iron foundry that remelted scrap iron in so called cupola furnaces, instead of making their own pig iron.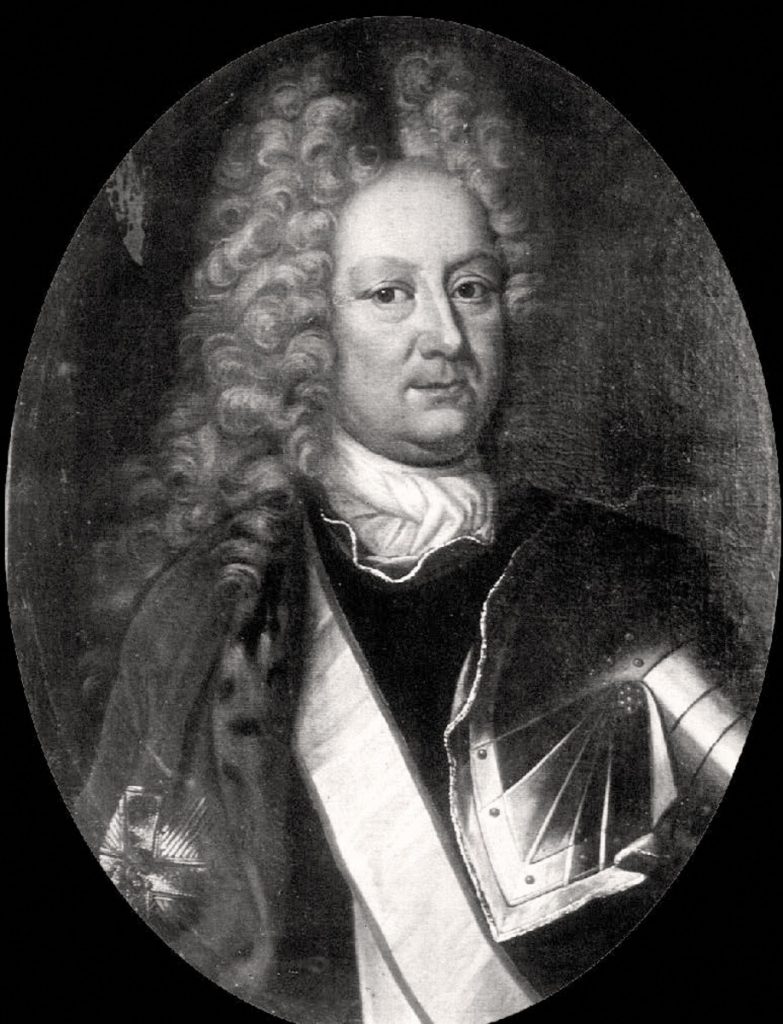 Caspar Herman Hausmann was born in 1653, in the town Segerberg in the german duchy Holstein, who were in a personal union with Denmark-Norway. He was a general in the Danish-Norwegian army, as well as a timber merchant and major landowner. During the big Nordic war in early 18th Century, he was a commanding officer, but was ordered to step aside in 1716, due to his "lack of energetic warfare". Nevertheless, he participated with honour when the swedish king Carl XII attacked Christiania (Oslo). Hausmann died in Christiania in 1718, and was buried in a marble sarcophagus in the crypt beneath Oslo cathedral. His wife was later laid by his side.
Hausmann was married to Karen Toller, heir to the estate North Frogner. The land was inherited by their daughter also named Karen, who was married to Frederik Christopher de Cicignon. Apart from other daughters, the couple had a son, Frederik Ferdinand, who ran the ironworks together with his mother after Caspar died.
This is how the ironworks might have looked like in the 1870s, just before Eidsfoss transitioned into an iron foundry. Time was running out for the blast furnace that had been key to the industrial development her at Eidsfoss for nearly 150 years.
The basis for locating an ironworks here, was that all the key elements to iron production was to be found in the vicinity; forest, ore and water power. The act was politically motivated.
Illustration: Marianne Karlsen