Here are several interesting buildings from the early 20th century. The wooden building on the right is Eidsfos Hall. The industry's workforce erected the building in 1909, and was funded by the owner's wife Thrine Schwartz, born Anker. She contributed with 2000 kroner, but some terms came with the money. The assembly house was to be a place for enlightenment and education of the workers, while political agitation was to be banned. An increasingly politically aware working class soon found themselves in need of a new assembly house, and Varden (the Beacon) in Orevika, west of Eidsfoss, was built in 1931.
The workshops and the owners' houses (and Eidsfos Hall from 1909), have had electricity since 1895, but the dynamo house in the old mill burned down in 1914. The new power plant saw completion in 1915, and during the 1920s, even workers homes got electricity. The brick stone house beside was built as a public bathhouse in 1908. In sum, these efforts raised living conditions for Eidsfoss citizens, and can be seen as an expression of the social-liberal notion that bettering conditions for workers would inhibit the growth of socialism.
The little red building besides the bath, is a trout hatchery that was operational until the mid 1970s. Spawning female fish were taken from nearby rivers in the autumn and sperm form male fish were collected and mixed with the fish eggs. The juveniles that hatched here were put into ponds to grow into eating size fish.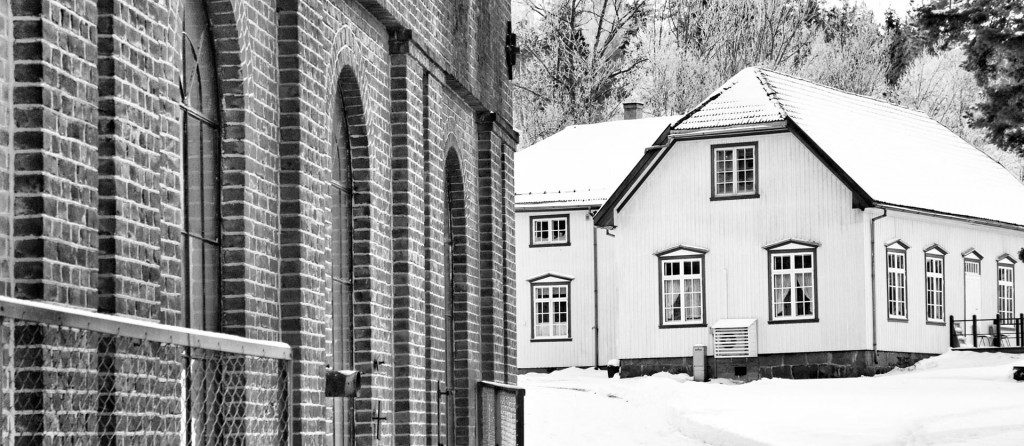 Photo: Kyrre Hansen
This is how the area might have looked like in 1914, when the power station was under construction.
Illustration by Marianne Karlsen