The buildings here at Gata (the Street), were erected in the 18th and 19th century. The villa to the left was home to company functionaries and their families. All the houses at Gata are privately owned, except the white building in front of you. Please respect this.
The workers homes at Gata were built using the notching technique, and were dressed with panel. They were typically painted red, as red pigment is a bi-product from iron production, and a cheap alternative. White paint was particularly expensive, and hence a luxury reserved for the affluent. That is why the whitewashed building in front of you was called Slottet (the Castle). It was built in cinder blocks, another bi-product from the iron production, and was a workers residence from the latter half of the 18th century until it became a laundry here as well as in Bråtagata in the 1920s.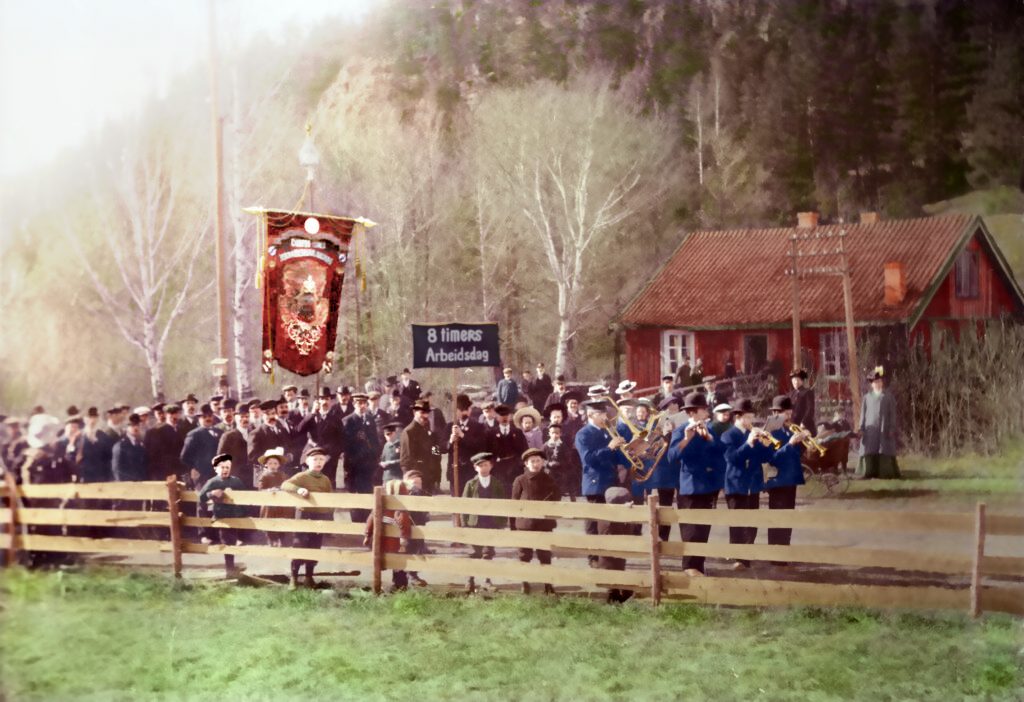 Behind the Castle, you find the old Eidsfoss square, which to a certain  degree of trading found Place. People sold home-crafted Products and home grown produce, but politics could also have been dicussed, as the square was a gathering point for the locals. In 1909, the first time Labor day was celebrated at Eidsfoss, the parade started from here, as it was every following year. Just as is the case in this Picture, which was taken by the old mill. (Unknowned photographer. Hand colored by Bjørn Vangen)
This picture was taken in the early 20th Century, and shows the view towards the workers area Hauane and the lake Bergsvannet. Gata is in the foreground.
Photographer unknowned. Hand colored by Bjørn Vangen.