There is a 17-meter drop between the lakes Bergsvannet (to the east) and Eikern (to the west), which has been utilized for watermills since the middle ages, and sawmills since the 16th century. A dam was built when the ironworks was established in 1697, and the water led into a system of channels and sluices that drove the paddlewheels that gave life to hammers and bellows in the huts and workshops. The blast furnace also depended on waterpower.
The dam was originally built in wood. As the lake rose, farmers complained over loss of fertile land, and in the 1720s, Eidsfos Verk negotiated a "friendly settlement". The settlement ensured farmers a yearly compensation – an arrangements that still applies today. A new cement dam was built in the early 20th century.
From where we are standing now, you can still see big square stones on the left river bank. This is what remains of the hammer hut. It was, together with the blast furnace, the most important production building of the iron works. Further downstream, other ruins and traces of buildings from the ironworks period are still visible.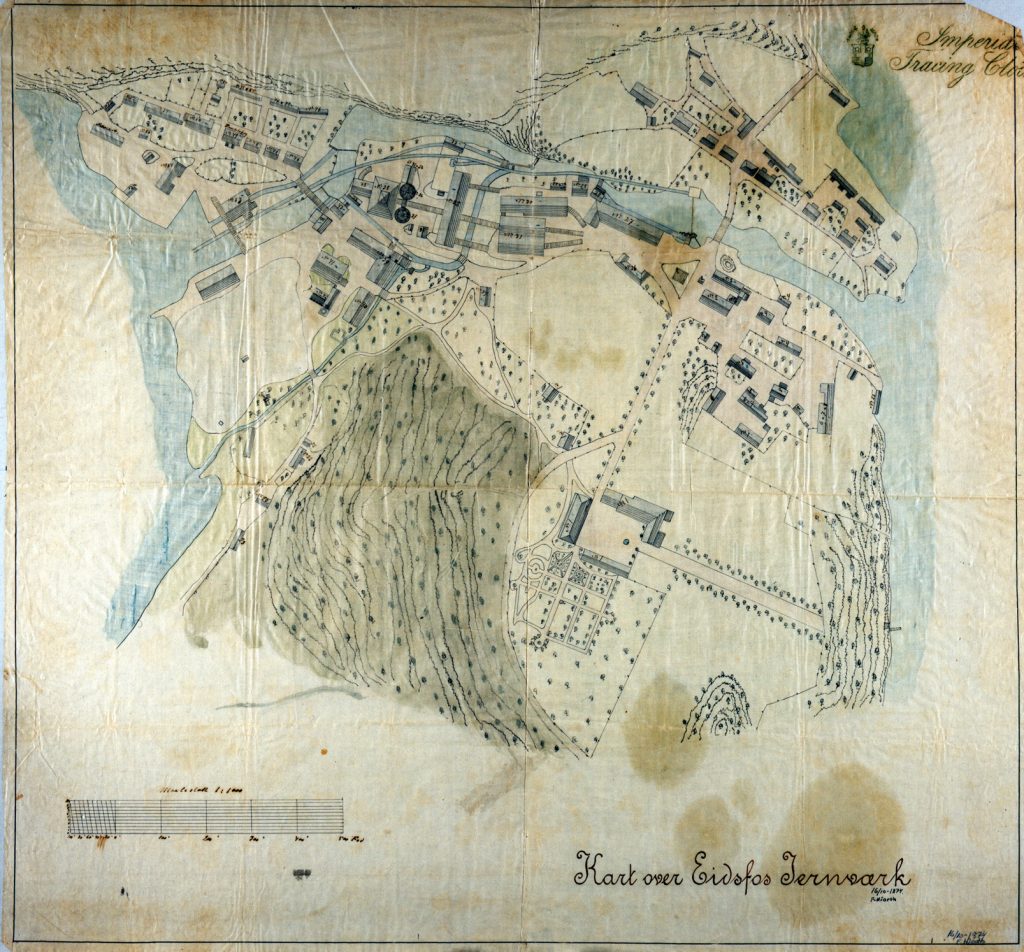 This map from 1874, shows how the buidlings were placed by the river Eid in the ironworks period. This had primarily to do with the need to access hydropower directly. When the ironworks industry was phased out, the buildings were moved, as the company became an iron foundry based on the remelting of iron scrap in so-called Cupola furnaces.
This watercolor from 1875 show the Hammer hut from the river perspective.
Unknown artist. AS Eidsfos Verk/Riksarkivet.
Further downstream we see the last mill and what was probably a vertical sawmill. In the background we get a glimpse of the three coal storage houses. To the left we see the Bettum workshop.