The huge blast furnace was located where the parking lot is today. It was the heart of the ironworks, where the pig iron was produced. Melting iron ore requires a temperature of 1540 degrees Celsius, and the blast furnace was hence equipped with water-powered bellows. The iron ore was first roasted and beaten into smaller pieces. Layers of ore and charcoal was placed in the blast furnace, and lime added if necessary. The blast furnace was operating continously for 2-3 years at the time.
Know-how and technology came from Germany and was transferred orally. It wasn't until the Royal Mining Academy at Kongsberg was established in 1757, that expertize on subjects like metallurgy developed in Norway. During the 19th century, the Norwegian iron industry struggled with low demand and increased foreign competition. Here at Eidsfoss, the blast furnace production was phased out in the 1880s, when the company, as most Norwegian ironworks, became an iron foundry. That meant remelteing scrap iron in cupola furnaces. The last stoves were made at Eidsfoss in 1961.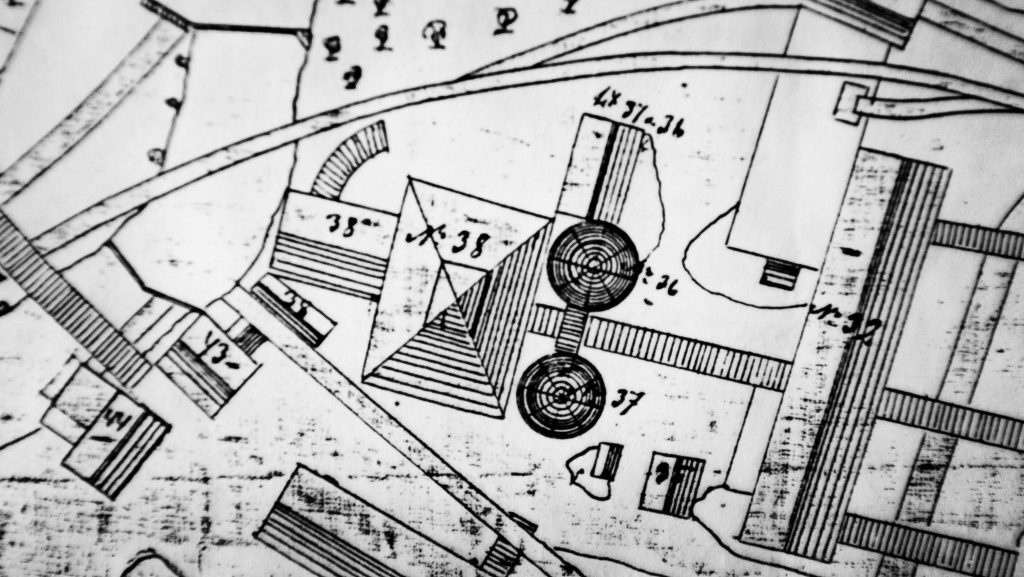 Bridges and waterways connecting it all
On this map, stemming from the later years of the ironworks period, we see how the blast furnace and the other industrial buildings were interconnected by a canals and waterways, fuelling bellows and wheels in shops and huts. There were also bridges between Storage houses and the furnace. The two round furnaces on each side of this bridge, was were the ore was roasted and hacked into small enough pieces to melt in the blast furnace. Most buildings in todays indsutrial site further downstream, were built after WWII.
The mighty blast furnace was located approx. where there is a parking lot today. It was key to the production of pig iron for centuries. The furnace burned continously for years at the time, and consumed an incredible amount of charcoal.
Illustration: Marianne Karlsen