Pentecoast market with long traditions
This years pentecoast market is on the 8. and 9. of june. It has existed in more than 30 years, and is one of the highlights at Eidsfoss each spring. This year more than 40 exhibitors, offer their handicraft, arts and crafts and food products over the whole of Edisfoss between 12 and six a.m. both days. After the market closes on saturday, you are invited to a free concert at the Tavern with local band "Gatas Spelmannslag". Other activities, like courses in making soap, wood working and iron forging are also available. See the map below for more information. We also offer free guided tours saturday and sunday at 3 a.m. Meet up with the guides at the post office museum. There are two art exhibitions, and they are open on monday too. So are the museums.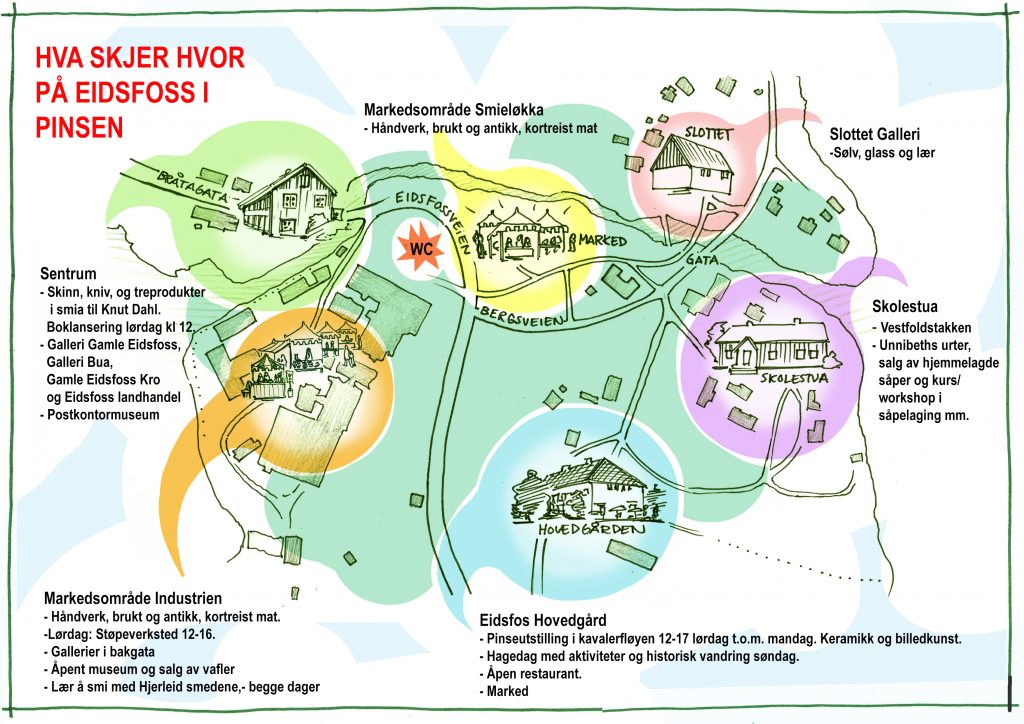 Exhibition and Garden Day at Eidsfos manor
This years Pentecoast exhibition at Eidsfos manor opens staurday 8. and is open till mondag 10. of june. This year Roberto Pronzato and Cecilie Morgenstierne display their art. There is a Garden day the same place on sunday 12-5 a.m., when you can join several garden related activities and a historic walk in the renessaince garden, with Mari Marstein as guide.

Courses and activities
Would you like to learn more about old handicraft traditions? Join courses in forging with blacksmiths from the handicraft school Hjerleid saturday and sunday, when you can make either a shoe iron or a blade hook to take home with you. Are you interested in learning more about the prinsiples behind casting? Join the Vestfold municipalities  course on saturday between 12-4 a.m. It is also possible to grind grain with a original stone grinder from the 12th century. Are you hungry? There is flat bread and other homemade local food at the market. Free horse and carriage-trips on suunday.