Railway-historical Seminar and Buss ride along the Tunsberg-Eidsfoss railway
I connection with the jubilées of Norwegian Railway club, who turns 50 this year, and Vestfold Private railways Museum association, who has been going at it for 20 years, we arrange a guided buss ride during the annual Railway-historical seminar at Eidsfoss, ironworks and end station on the Tunsberg-Eidsfoss railway (1901-1938). The bus leaves Tunsberg railway station at noon on sunday 30. of june and returns from Eidsfoss at 6 the same day. On the trip we will be guiding and stop by remnants from the railway and on Vestfold Private railways Museum associations facilities at Hillestad. Bus trip including dinner and lecture at Eidsfoss for only 500 kroners. 300 kroners with no dinner. The lecture costs 100 kroners.
Lecture on the Dark side of Norwegian railway history
The lecture is held in the old cleaning shed in Markenrudveien at Eidsfoss, where the locomotives at the Tunsberg-Eidsfoss Railway got their necessary care. Its called «The dark tracks of the Railways" and is by Bjørn Westlie, author of the book «The prisoners that dissappeared. NSB and the slave workers on the Nordland Railway", at 3 o'clock. The lecture is about the state-owned Railway company NSB during WWII. We open for interesting dicussions after the lecture, as usual, and invite you to join us for a stroll to the Eidsfoss carriage, which is currently beeing restored. Dinner is served at five, and the bus to Tunsberg returnes at six. Dinner (Salmon or Meat balls) can be prepaid (200 kroners) when you buy the ticket.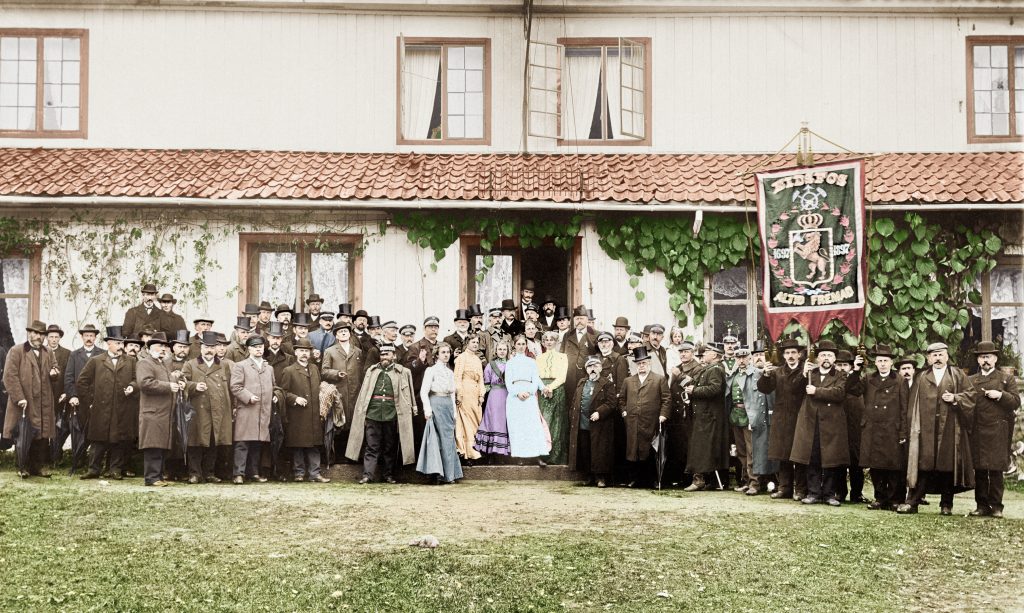 This picture is from the opening of the Tunsberg-Eidsfoss railway on the 18th october 1901. Several prominent guests attended, such as MP Løvland og President of Parliament Berner.
Photo: Norwegian Railway museum. Colored by Bjørn Vangen.