This year's music event at Eidsfoss
The last weekend in June and Lake Eikern sets the scene for the Eidsfoss Festival. On Saturday 24 June from 2 – 5pm you can also enjoy a Blues lunch at Gamle Eidsfos kro, and on both festival days Eidsfoss manor invites to festival breakfast between 9 and 12. The festival takes place on the newly built stage, which is located on the banks of Eikern. In addition to Vassendgutane and Halva prized, The Rocking Cadillacs, Spoonful of Blues and DJ Kuhne are on stage.
Find your tickets here.  Welcome!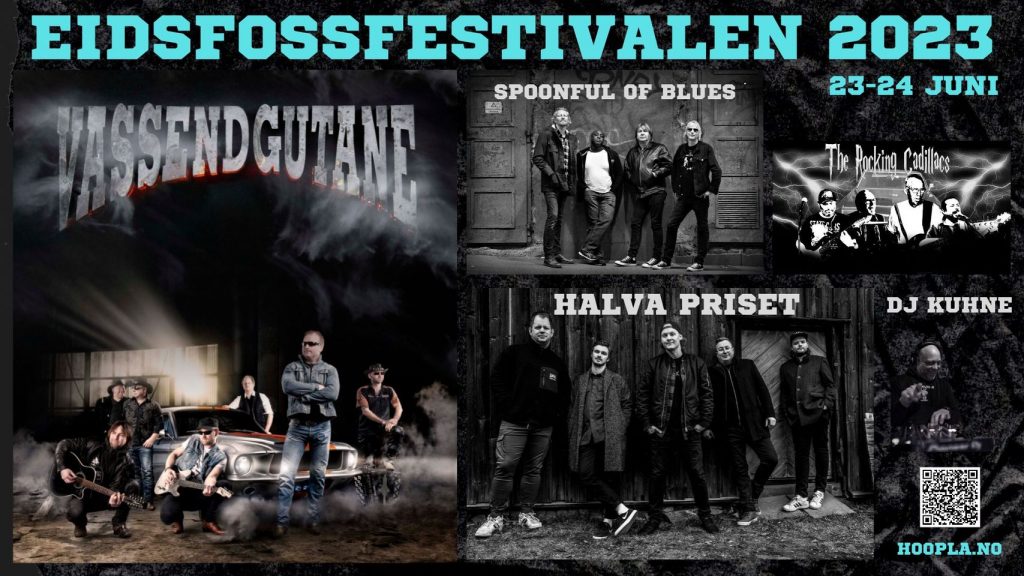 VASSENDGUTANE – THE ORIGINAL OF PARTY COUNTRY!
In 1996, 6 healthy young men gathered at the Youth Center in Åmdalen in Ørsta for the first rehearsal of Vassendgutane's journey.After a period of many rehearsals with self-proclaimed Teddy Nelson as a motivator, several new songs were added, which the guys made themselves.As time went on, the Vassendgutane kept getting questions about what style of music they played?This is how the trademark "Party-country" was created.And this became the slogan for the style of Vassendgutane.Since that time, one can safely say that things have had the right development.Others also use the Party-country style today.In 2022, Vassendgutane has become a brand, and the leading band in Norway in this segment.As mentioned, the Vassendgutane are: "The original of Party-country".They are the band that can fill the entire concert with sing-alongs.
Halva Priset is a Norwegian party band started by Petter Bjørklund Kristiansen, better known under the stage name Katastrofe. The band's other members are Emil Haglund, Hans Marius Indahl, Lars Støvland and Andreas Nordange. The band had its big breakthrough in 2021 with the song "Den Fineste Chevy'n", with Maria Mena as guest vocalist. On Spotify, the song became the year's biggest Norwegian summer hit in 2021, it finished in first place on the VG list and in February 2022 was nominated for the Spellemannprisen 2021 in the category Song of the year.